Prince Khalid bin Abdullah
Prince Khalid bin Abdullah was an owner-breeder quite like no other, with his numerous cherished champions including perhaps the greatest thoroughbred of them all in Frankel. Through his breeding operation, Juddmonte, the Prince has left a legacy that will continue to enrich the sport for ever more, and today we salute the indelible mark he has left by posthumously inducting him into the QIPCO British Champions Series Hall of Fame – just the second to be recognised within the Special Contributor category, following Queen Elizabeth II. 
Never one for fanfare or self-adulation, the unassuming Prince Khalid let his horses do the talking in his famous pink, green and white colours. Over the past four decades, these silks have become synonymous with horses of rare ability, with Juddmonte a byword for excellence.  
Prince Khalid started from scratch, buying four yearlings at the Newmarket sales in 1977. The portents were good from the outset with the quartet – Royal Obligation, Alia, Diab and Marzook – all becoming winners. These days, Juddmonte has 250 horses in training worldwide, approximately 200 broodmares and employs 250 people, with headquarters near Newmarket (Banstead Manor), County Meath (Ferrans Stud) and Kentucky (Lexington). It currently stands five stallions, headed by Frankel in the UK, together with Kingman, Oasis Dream, Bated Breath; and Mandaloun in the US. Their elite stallions are homebred to at least two generations and, in the case of Bated Breath, four generations. They enjoy support from breeders worldwide and outstanding sustained success on the track. 
There are never any certainties in racing, especially when it comes to equine chemistry, but Prince Khalid had the uncanny knack of getting the formula right time after time. Before his death, at the age of 85 in January 2021, he had the distinction of winning all the British and French Classics with horses he incredibly bred himself. Of the 560 stakes winners bred by Prince Khalid, there are 119 (and counting) Juddmonte homebreds who have won at least once at the highest level, with 30 of them winning a Classic in either Europe or America in the Juddmonte silks.  These achievements go some way to expressing the Prince's phenomenal influence on the British – and global – racing landscape. 
Douglas Erskine Crum, chief executive of Juddmonte said at the time of the Prince's death: "Prince Khalid will always be remembered as a quiet, dignified, benevolent family man, whose horses spoke for him. He leaves a legacy that will stand the test of time. His contribution to the development of the thoroughbred will have long-lasting effects."
And his influence continues. For instance, one of the last decisions in which he was involved before his death was the matings for 2021; choosing the stallions who his broodmares would visit. Those foals were born last year and will race as three-year-olds in 2025 – so should Juddmonte have a champion then, he will have been involved directly in the process.   
The flawless Frankel, trained by Sir Henry Cecil, was his masterpiece; winning all 14 of his races, including ten at Group 1 level. Frankel's dam was Kind, and his grand-dam was Rainbow Lake, who was sired by Rainbow Quest. The prince owned them all. "He's the best I have had. I am lucky to have this horse," he would say of the colt in a rare interview, flashing his warm smile in between questions. "Let us hope another like him comes along in the future," he added. 
It seems a fanciful notion there will ever be another quite like the imperious Frankel, although the colossus is himself doing his best to achieve the feat in his second vocation. He has already sired 31 Group 1 winners (nine of them in 2023 alone); was Champion Sire in 2021; and been the joint-fastest stallion in history – with Danehill, another Juddmonte homebred stallion – to sire 100 stakes winners. 
If Frankel was Prince Khalid's king, then Enable was his queen. Trained by John Gosden OBE, she embodied the Prince's vision and ambition, with her sequence of big-race triumphs including a record three King George VI and Queen Elizabeth triumphs, two Prix De l'Arc de Triomphe victories, plus the Oaks and Irish Oaks. 
In addition to Frankel and Enable, there were a plethora of other priceless treasures to savour, such as Dancing Brave, Zafonic and Arrogate. What an explosive equine five-a-side team they would have made, with numerous other stars such as Known Fact, Warning, Rousillon, Rainbow Quest, Oasis Dream, Midday, Twice Over and Kingman to also reflect on. 
Of those, Known Fact, retired at the end of 1980, became the first of Prince Khalid's champions to sire another: the brilliant Warning. Success breeding success. The ball had started rolling almost from day one and has never lost its momentum. 
Inevitably, there was the odd low to endure, with Dancing Brave's half-length loss in the 1986 Derby remaining one of the sport's most debated defeats. Prince Khalid still had three winners of the premier Classic, via Quest For Fame (1990), Commander In Chief (1993) and Workforce (2010), with the last-named, who won in a record time, also being among his record-equalling six Arc winners. The others were Rainbow Quest (1985), Dancing Brave (1986), Rail Link (2006) and Enable (2017 and 2018).  
The Prince's success story Stateside has featured a century of 100 Grade 1 winners, plus the relentless Arrogate establishing himself as one of the best dirt horses there has been. A jaw-dropping 13½-length win in the 2016 Travers Stakes was merely a warm-up for the grey's victories in the Breeders' Cup Classic, Pegasus World Cup and Dubai World Cup. 
Born into Saudi Arabian royalty, Prince Khalid first enjoyed going racing in the 1950s, when visiting Longchamp in Paris. A seed had been planted and had already taken full bloom by the time Charming Native, trained by Jeremy Tree, provided him with a first winner under Lester Piggott at Windsor Racecourse in May 1979. 
Prince Khalid wanted more than just the thrill of ownership and Juddmonte was founded the following year. It was an instant success, with the landmarks coming thick and fast. 
A first homebred winner came courtesy of Fine Edge, who was out of Prince Khalid's first broodmare, Metair, in April 1982. That same month, a three-year-old filly called Slightly Dangerous was purchased. She would finish runner-up in The Oaks at Epsom, but it was as a foundation mare that she became best known. She produced the Group 1 winners Commander In Chief, Warning and Yashmak, as well as Group 2 winner Dushyantor and Classic-placed Deploy. 
In the same year, Prince Khalid also acquired Ferrans Stud in Ireland's County Meath, and Belair Stud in Lexington, Kentucky, as a package from Dr Herbert Schnapka, the German industrialist. Several broodmares and a stallion share portfolio were included in the deal (including Fleet Girl, the fourth dam of Enable) which helped expand Juddmonte's band of mares significantly, as did breeding stock purchased from the estate of Jock Whitney the following year. The latter package included Rockfest, who was to become the great-grandam of Frankel.  
In June 1984, Ballinderry won the Ribblesdale Stakes, giving the Prince a cherished first homebred winner at his beloved Royal Ascot. Rainbow Quest and Dancing Brave then took it in turns to win the Prix de l'Arc de Triomphe, with the latter finishing his racing career as the highest-rated horse in the world, a crown he held for almost 40 years until Frankel emerged on the scene.   
Banstead Manor Stud near Newmarket was purchased from the Morriss family in 1987, and three years later came a first homebred Classic winner when Houseproud won the French 1000 Guineas. Wince's victory in the 1000 Guineas in 1999 completed Juddmonte's achievement of breeding the winners of all five English Classic races. Within five years, the feat had been replicated in France.   
The beginning of the new millennium saw Prince Khalid gain the first of his six Breeders' Cup successes with Banks Hill in 2001 in the Filly & Mare Turf, a race also won by her sister, Intercontinental, in 2005 and by Midday in 2009. Banks Hill and Intercontinental were two of five winners at the highest level produced by the remarkable Hasili, whose offspring would also include seven Group winners, as well as leading sire Dansili. Toussaud was another exceptional broodmare for him around this time, producing four Grade 1 winners – Chester House, Honest Lady Chiselling and Empire Maker. 
Many of his finest horses in America were trained by Bobby Frankel, including seven-time Grade 1 winner Sightseek.  Not long after the great trainer died of cancer in 2009, Prince Khalid named his best yearling in his honour and sent him to Henry Cecil in Newmarket. Cecil first started training for the Prince in the early 1980s, and had guided the successful careers of such as All At Sea, Armiger, Tenby, Commander In Chief, Distant View, Reams Of Verse, Yashmak, Wince, Beat Hollow and Passage Of Time. His knighthood was yet to come. 
Frankel carried all before him, with his victories including a mesmerising romp in the Juddmonte International at York in 2012, a £1 million race that Prince Khalid first sponsored in 1988.  
Enable chalked up eleven wins at the highest level in her fabulous career and became the first British-trained mare to win more than £10 million in prize money. She produced her first foal, by Kingman, in February last year, and her second, by Dubawi, this winter. Racing fans would undoubtedly be thrilled to see her offspring go on to dazzle in the pink, green and white colours of Prince Khalid bin Abdullah – like so many others before them.  
The racing and breeding operation of Juddmonte, Prince Khalid's creation, continues as a world-leading international horseracing and breeding enterprise under the direction of his sons, Prince Fahad, Prince Saud and Prince Ahmed. Juddmonte-owned horses have won 76 races so far this year, with Group 1 wins from Elite Power, Whitebeam, Westover, Chaldean and Set Piece. 
30
Worldwide Classic Winners
3
Champion Owner Trophies
Career Highlights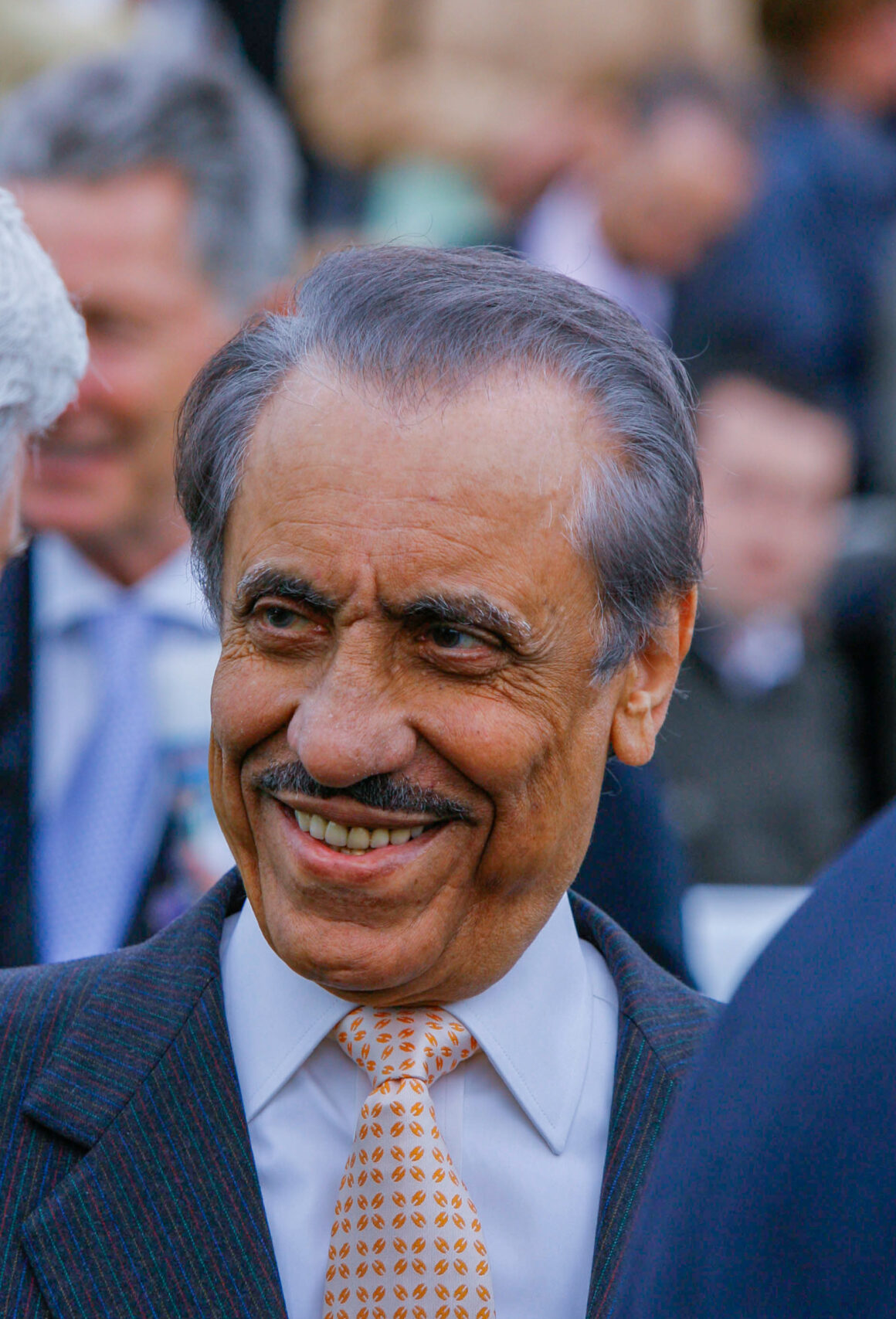 The Start Of A Special Era
Prince Khalid buys four yearlings at the Newmarket sales. All go on to be winners.
First Winner
Charming Native, ridden by Lester Piggott, gives him his first winner at Windsor. Later that year, he has his first Group 1 success, via Known Fact in the Middle Park Stakes.
Breeding Operation
The name Juddmonte is first used in context of the Prince's breeding operation. Studs in England, Ireland and America are acquired along the way. In the same year, Known Fact became his first Classic winner, when awarded the 2000 Guineas, and goes on to be his first stallion.
Buys Dancing Brave
Dancing Brave is purchased for $200,000 as a yearling. He goes on to scale great heights, being among the Prince's six Prix de l'Arc de Triomphe winners.
First Homebred Group 1 Winner
Warning becomes his first homebred Group 1 winner, with victory in the Sussex Stakes.
Sponsorship
Juddmonte sponsors the Group 1 International Stakes for the first time.
First Classic Haul
Wince wins the 1000 Guineas and, in the process, completes the set of English Classics won by Juddmonte homebreds.
American Classic
A first American Classic triumph. Flute, trained by Bobby Frankel, wins the Kentucky Oaks. Later that year, a first Breeders' Cup win via Banks Hill.
Champion Owner
Champion Owner in Britain for the first time. Oasis Dream, winner of the July Cup and Nunthorpe, is among his leading lights.
The Birth Of The Greatest
Frankel is born at Banstead Manor. He will go on to dazzle in all his 14 races, being hailed as the greatest thoroughbred there has ever been.
100th Classic Hombred
Noble Mission, brother of Frankel, becomes Juddmonte's 100th Group 1 homebred winner.
Amazing Arrogate
Arrogate caps his short but wonderful career with victory in the Dubai World Cup.
Queen Of The Turf
Enable returns home to Banstead after a decorated career including the King George VI & Queen Elizabeth Stakes and two renewals of the Prix de l'Arc de Triomphe. She's since had two foals, whose achievements will be known in years to come.
100th Grade Win
Viadera becomes Prince Khalid's 100th Grade 1 winner in America.