Frankel
It's impossible to directly compare all the greats over the past 250 years or so, but nobody can dispute that Frankel was a titan of the turf who represented equine perfection and his place in the Hall of Fame.
"I cannot believe in the history of racing that there has ever been a better racehorse," said Sir Henry Cecil, Frankel's trainer, after Frankel had signed off his flawless 14-race career with victory in the QIPCO Champion Stakes at Ascot in 2012.
14 races. 14 wins. Ten of them in Group 1 races and nine of them in contests that fell under the QIPCO British Champions Series umbrella.
Frankel was the first horse in 60 years to be a champion at two, three and four. He won at the highest level between seven furlongs and a mile and a quarter, but was blessed with so much speed that he might just as easily have been a champion sprinter. And who knows just how far he would have kept galloping had the opportunity arisen?
The World Thoroughbred Rankings Supervisory Committee awarded Frankel a rating of 140 when he was retired, making him their all-time No 1. Dancing Brave (138) and Peintre Celebre (137) were next, with Generous, Sea The Stars and Shergar on 136.
Racing is often a sport of fine margins. Frankel, bred and owned by the late Prince Khalid Abdullah and named after American training legend Bobby Frankel, was simply on a different level. He revelled in blitzing his rivals with speed and stamina, many of whom were stars in their own right.
Many of his victories were gained by wide margins. In essence, were not really races at all – merely opportunities for him to put on joyous exhibitions of pace, power and exuberance.
A son of Derby winner Galileo, Frankel had already been the subject of glowing reports at home. He made a winning debut over a mile following a soggy night at Newmarket in August 2010, winning at the main expense of Nathaniel.
Nathaniel himself would win some of the sport's biggest prizes before subsequently becoming the sire (father) of star mare Enable.
"He could potentially be quite nice," Cecil said as Frankel returned to the winner's enclosure. Frankel followed up at Doncaster, winning by 13 lengths, and then won the Juddmonte Royal Lodge at Ascot by 10, before gaining yet another convincing victory in the Dewhurst at Newmarket.
Frankel began his three-year-old campaign with victory in the Greenham Stakes at Newbury. From there continued to carry all before him with successive Group 1 victories in the QIPCO 2000 Guineas, St James's Palace Stakes, Sussex Stakes and Queen Elizabeth II Stakes.
His stunning Guineas performance at Newmarket was the highlight. Regular jockey, Tom Queally, was instructed to "let him use his stride" and fans watched in awe as the combination opened up a 15-length lead at halfway. His eventual winning distance of six lengths was the biggest margin since Tudor Minstrel in 1947. It's one that will live long in the memory of every onlooker that day.
It was widely expected that Frankel would be sent to stud at the end of 2011. However, Prince Khalid let him race on. He continued to deliver with the help of his now regular pacemaker, Bullet Train, who was also his companion at home.
There is little doubt Frankel was content at Cecil's famous Warren Place yard. He had a reputation for being the biggest eater and sleeper and would exhibit all his brio in his homework. He had a huge stride pattern and it soon became apparent he had a supremely efficient cardiovascular system. In addition to big feet, it would be no surprise if he has a larger-than-average heart and spleen.
Frankel went on to gain runaway wins in the Lockinge, Queen Anne and Sussex Stakes in 2012. He then moved up to a mile and a quarter for his final two races. His win in the Queen Anne Stakes was one of the all-time great performances at a mile, while his seven-length win in the Juddmonte International at York was perhaps his most complete display yet. Then came his farewell QIPCO British Champions Day success in front of Her Majesty The Queen and a sell-out Ascot crowd.
It does not always follow that brilliant racehorses go on to become successful stallions. But Frankel, who stands at Banstead Manor Stud on the outskirts of Newmarket, where he was born, has been the gift that has kept on giving with his progeny already going on to win major prizes all over the world. His first crop of more than 100 sons and daughters, for example, included Cracksman, who would twice be a runaway winner of the QIPCO Champion Stakes.
A champion on and off the track, and a horse for every record book. Frankel is an unquestionable Hall of Famer.
Career Highlights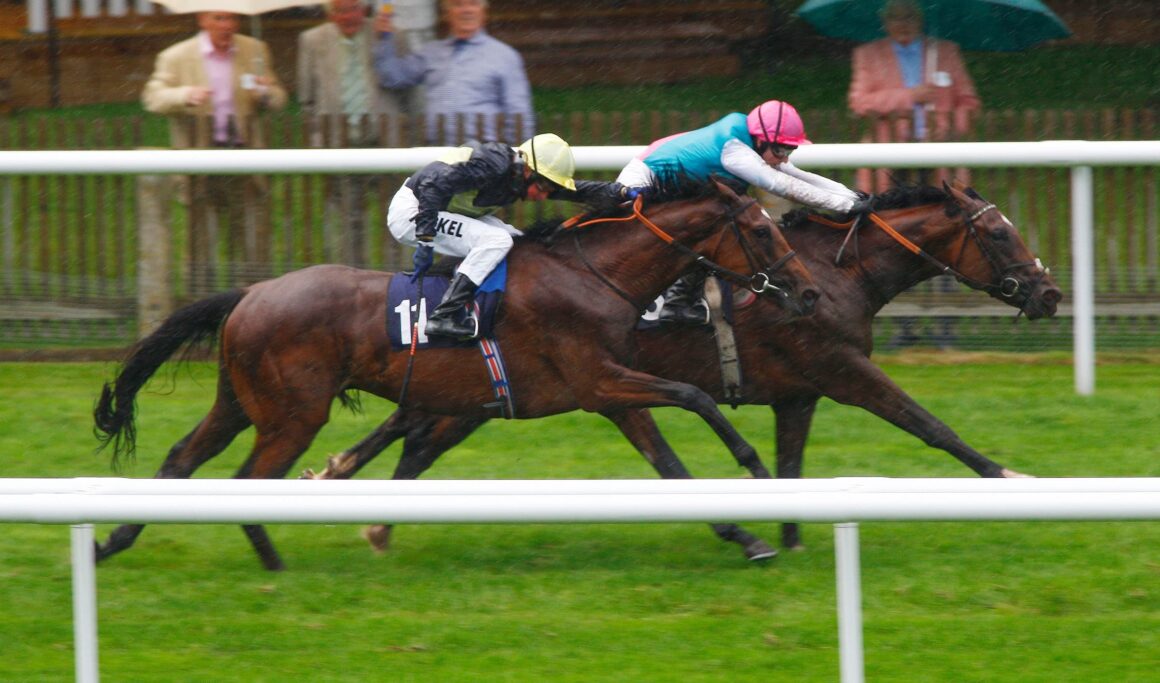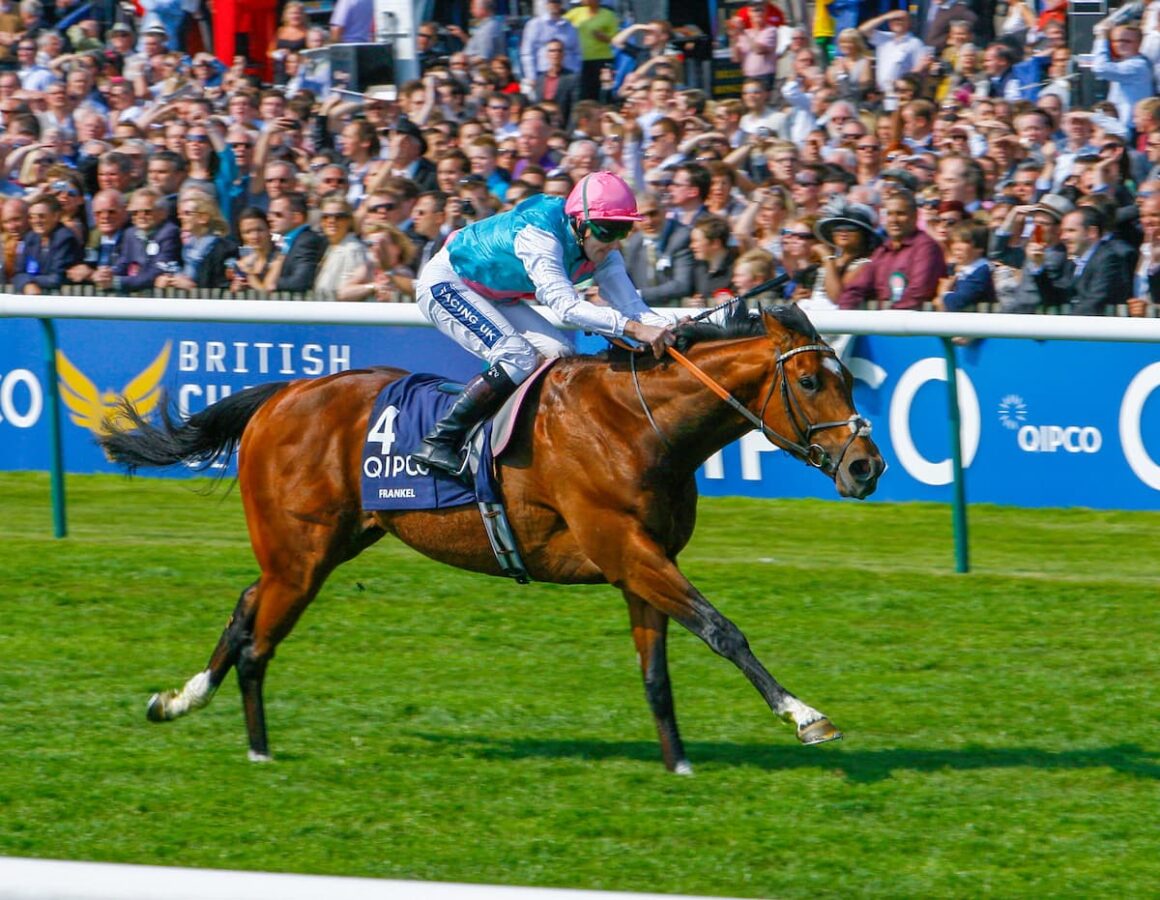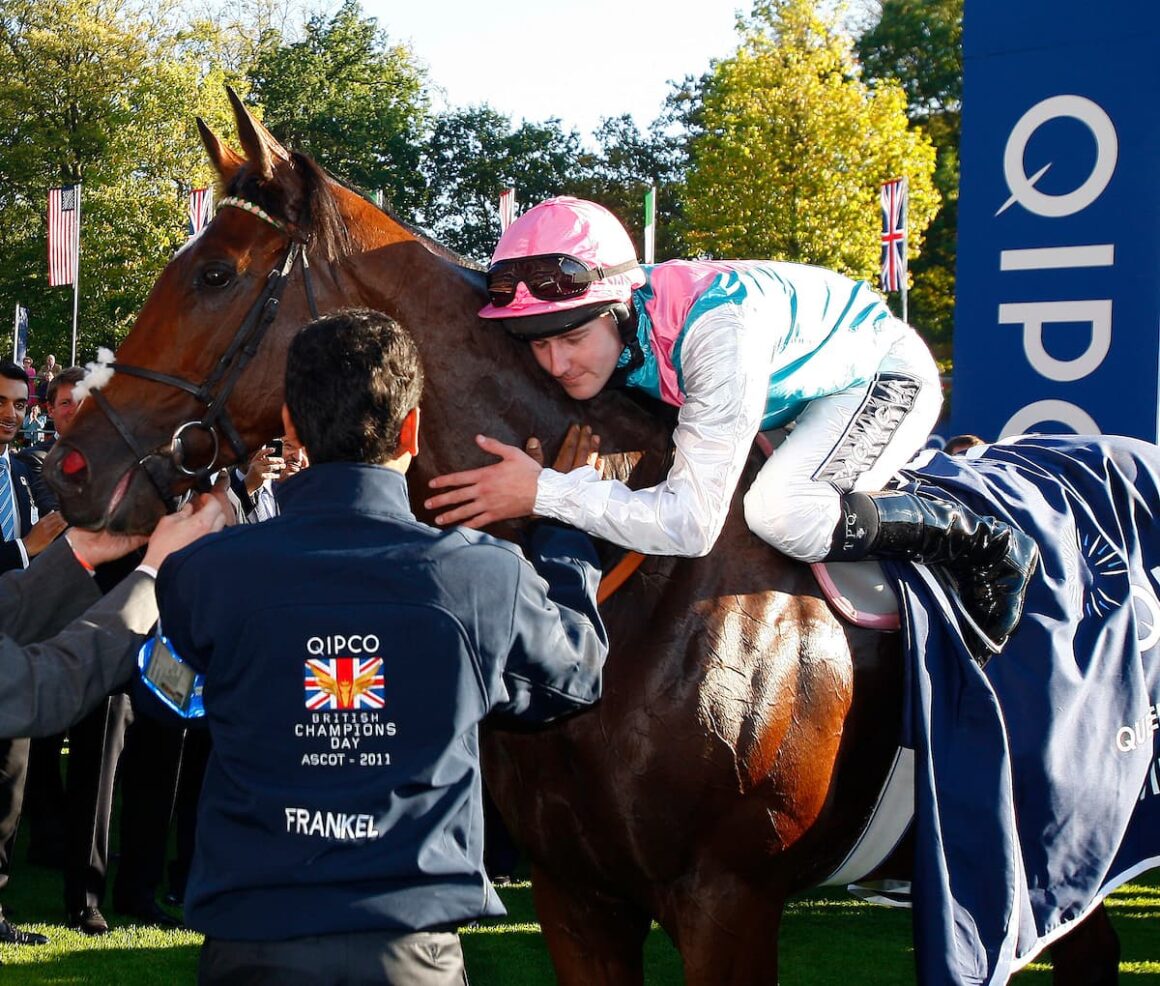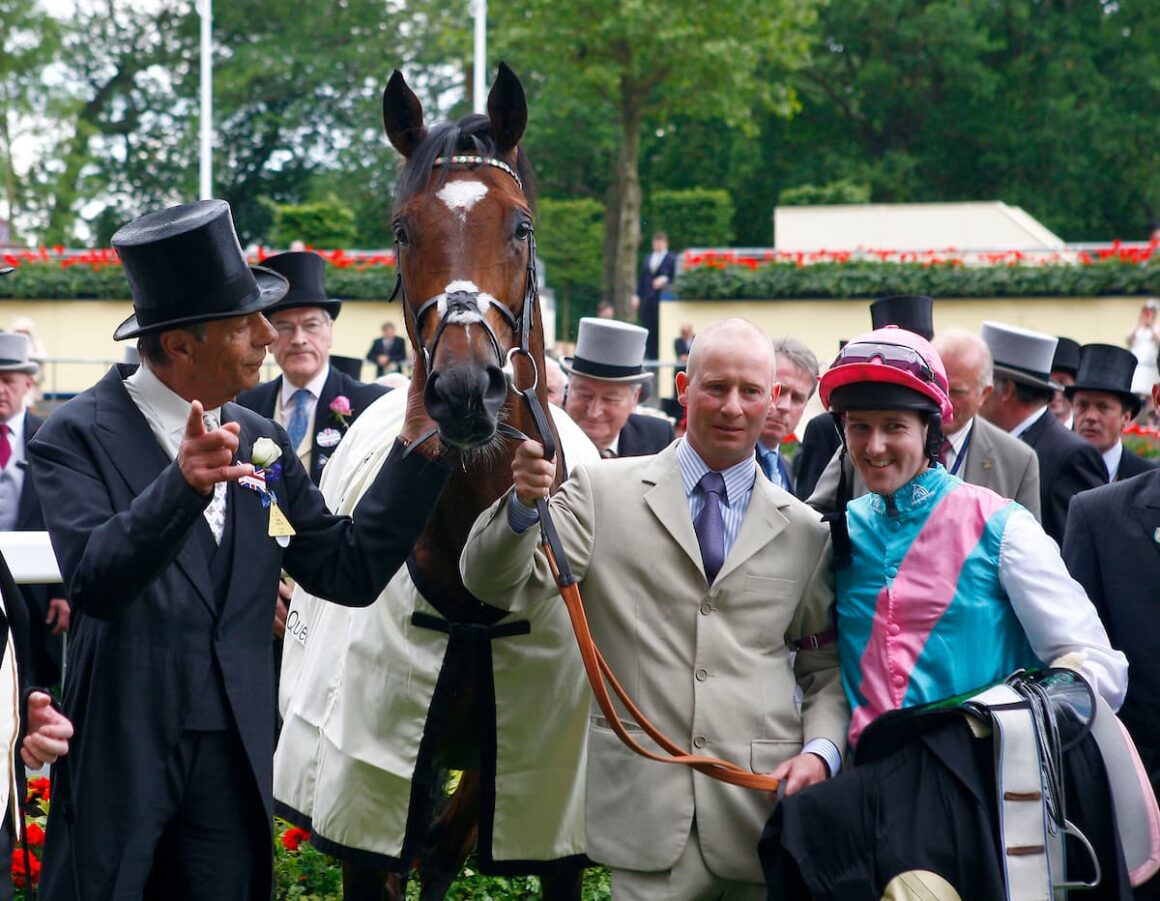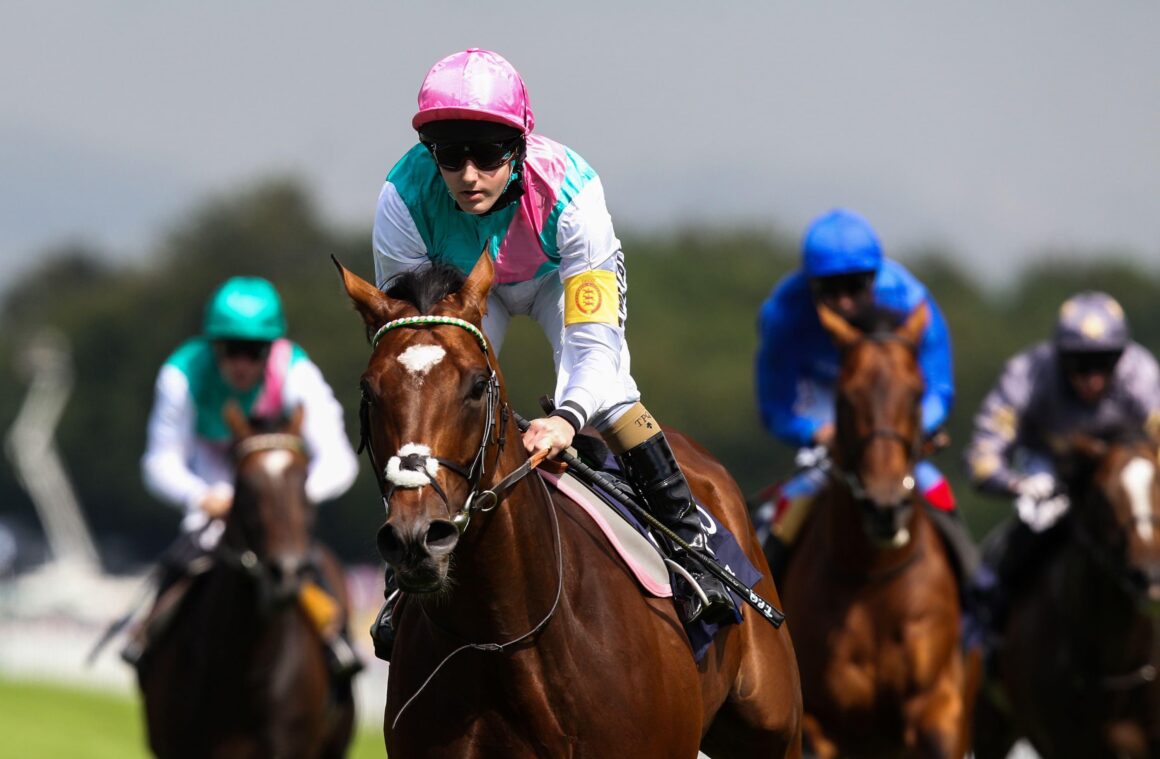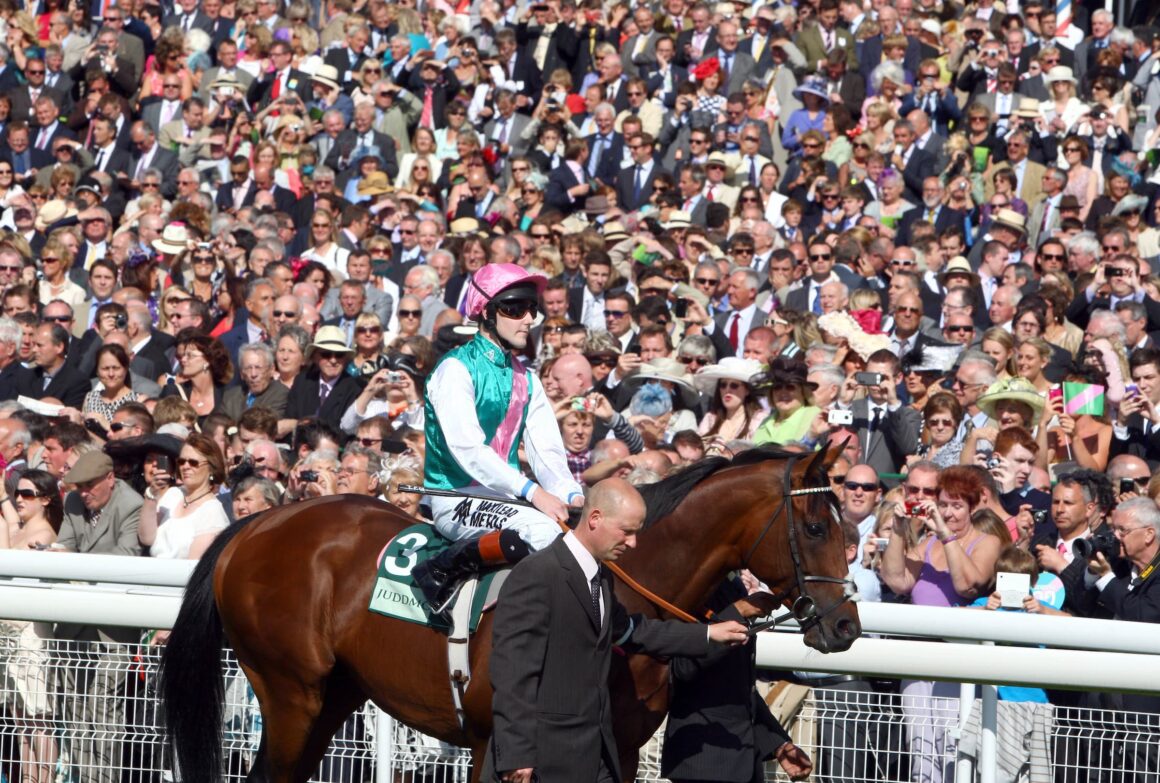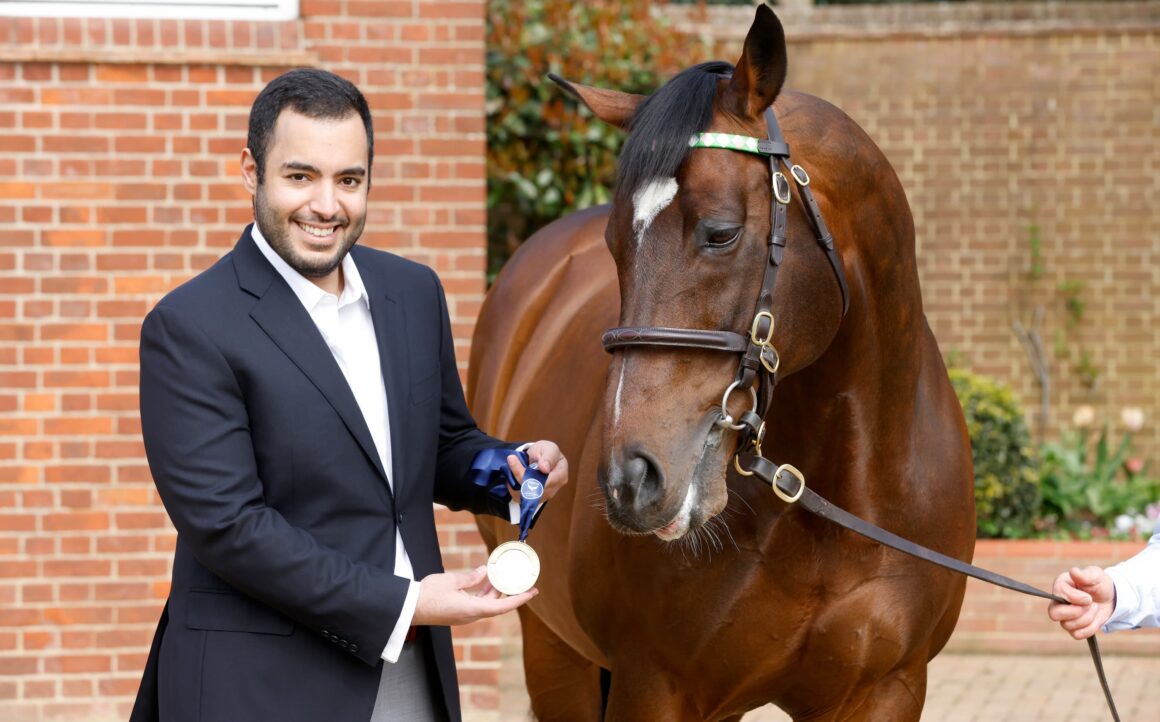 Newmarket
Wins a mile maiden on his debut at Newmarket beating subsequent Group 1 winner, Nathaniel.
QIPCO 2000 Guineas, Newmarket
Spectacular winner of the QIPCO 2000 Guineas at Newmarket, by the second-widest winning margin in the 200-year history of the race.
Queen Elizabeth II Stakes, Ascot
Lands the Queen Elizabeth II Stakes on the first ever QIPCO British Champions Day at Ascot.
Queen Anne Stakes, Royal Ascot
Romps home winning by 11 lengths in the Queen Anne Stakes at Royal Ascot.
Sussex Stakes, Goodwood
Becomes the first and only horse to win back-to-back renewals of the Sussex Stakes at Goodwood.
Juddmonte International, York
A record crowd causes traffic problems in the surrounding area as racegoers flock to see Frankel step up in trip and maintain his unbeaten run, in the Juddmonte International.
QIPCO Champion Stakes
Signs off unbeaten with his 14th straight win, and 10th Group 1 in the QIPCO Champion Stakes at Ascot before beginning his new career at stud.
Hall of Famer
Becomes one of two inaugural Hall of Famers in to the QIPCO British Champions Series Hall of Fame.
---
Other Accolades
Highest-rated thoroughbred of all time
£2.9 million in prize money
Champion two, three and four-year-old
Frankel is, quite simply, the best horse I have ever seen or expect to see – and, I would argue, that applies to everyone else, too.
Lydia Hislop – Racing TV Presenter
Frankel was remarkable; a truly magnificent racehorse. An exquisite mixture of power and poetry, he could make you look on in wonder, sometimes almost in disbelief, for he made extraordinary feats look easy.  The manner of his 14-race winning streak puts him at the pinnacle of all undefeated champions, quite possibly within the 300 year history of racing thoroughbreds.
Ruth Quinn – Director of Racing, BHA
Frankel is to my mind the most outstanding racehorse on the flat, since I became hooked on the sport almost 60 years ago.
Martin Mitchell – Former Tattersalls Bloodstock Director
I have only seen three horses that could do things impossible for the rest of their species. Those special three are Secretariat, Arkle and Frankel.
James Delahooke – Bloodstock Agent