6th April 2023
Racing Trailblazers: Ellen Chaloner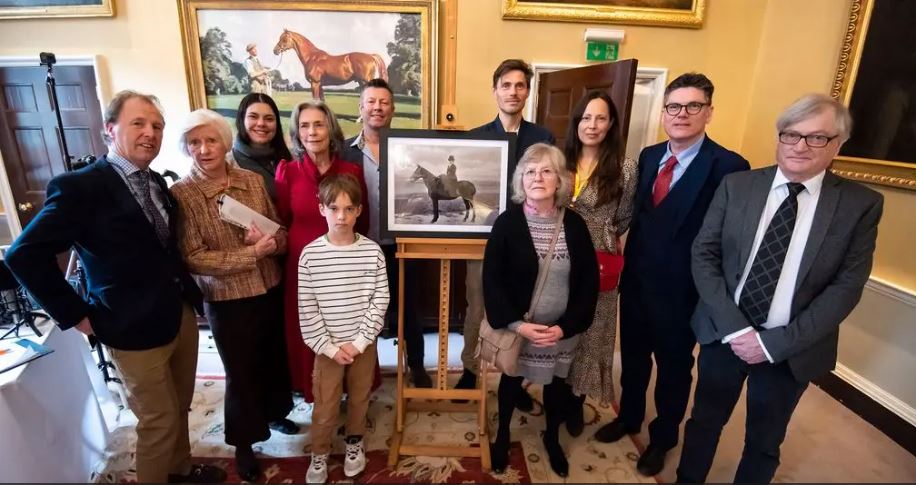 Charlie Swan (left) with other descendants of Ellen Chaloner at the Jockey Club rooms in Newmarket
Credit: Mark Westley
Nearly a century and a half ago, Ellen Chaloner quietly paved the way for women like Jenny
Pitman, Henrietta Knight, Venetia Williams, Lucinda Russell, Gay Kelleway and Sue Smith
to have the right to train racehorses in their own name.
It wasn't until 1966, after Florence Nagle and Norah Wilmot took The Jockey Club to court,
that women would officially be granted permission to train in Britain.
Official licences didn't come into force until the early twentieth century, but The Jockey Club
required trainers to have permission to train horses on Newmarket Heath. They granted Ellen
a permit to train in April of 1886 following the death of her husband.
Adding a greater stamp of legitimacy, the 1891 census recorded her profession as 'trainer of
racehorses'.
Ellen was born on December 27, 1845. It's no cliché to say she had racing in her blood. Her
father, John Osborne, Senior, was a well-respected trainer near Middleham.
Her brother, John Junior, rode twelve classic winners: the Derby in 1869 on Pretender, the
2,000 Guineas six times, the 1,000 Guineas and the St Leger twice, and the Oaks in 1874.
"I was only eleven years old when I saw my first race," Ellen told a Press Association
reporter on the occasion of her 96th birthday in 1941. That was the 1857 2,000 Guineas, won
by Vedette, ridden by John, Jr. "I also saw Pretender win the Derby in 1869 when ridden by
my brother. My husband had won the Derby six years previously, on Macaroni, but I couldn't
get there to see it."
Her husband Tom Chaloner went to work as an apprentice jockey for John Senior in 1852.
He and Ellen were married in the spring of 1865. As a jockey, Tom won the St Leger five
times, the 2,000 Guineas three times, the 1862 Oaks, and that 1863 Derby on Macaroni.
Tom retired from riding in 1883 and the following year trained the winner of the 2,000
Guineas, Scot Free. He died in April of 1886 aged just 46. That same month, 40-year-old
Ellen was given permission to take over at Osborne House in Newmarket, now the overflow
yard for Heath House, headquarters of 2022 Prix de l'Arc de Triomphe winning trainer Sir
Mark Prescott.
She trained for several significant owners, and a key supporter of hers was prominent trainer
Mat Dawson, who had placed some horses with her.
She was ahead of her time as a working mother. She and Tom had eight children, four of
whom became successful jockeys. George won the 1888 and 1892 Royal Hunt Cup, the 1891
and 1894 Queens Vase, the 1891 Wokingham and the 1892 Middle Park Stakes. Henry, Phil
and Richard also rode successfully, the latter two both on the flat and over jumps. Their only
daughter, Mary Ellen, died in 1896 at the age of 24.
Her biggest training success came in the last race on the final day of Ascot's Heath Meeting
(it had not yet become known as Royal Ascot) in June of 1887. After finishing unplaced in
the Oaks, Jersey Lily won the one-mile Triennial Stakes (later to be called the Jersey Stakes)
by a length at odds of 20-1. Her son George rode.
Trainers' names weren't always listed in race results printed in papers of the day, but the
press was obviously in no doubt that Ellen was the trainer of record. In the June 13, 1887
edition of The Sportsman, 'our resident Newmarket correspondent' reported: "One of the
most popular victories here…was that of Jersey Lily, and Mrs Chaloner on the previous
morning told me that she was very sanguine, as the course would exactly suit" her filly.
In 1893 she was listed as training 17 horses. She retired from training in 1894 and one of her
sons took over at Osborne House, though she retained her interest and was said to be a
regular racegoer at Newmarket well into her nineties. At the sales, prospective buyers would
often ask her opinion on yearlings.
The aforementioned 1941 article noted that Ellen "still follows the sport with great keenness
and occasionally indulges in sixpenny, shilling and half-crown wagers" while going on to
describe her as "a teetotaler and non-smoker and a staunch churchwoman."
An article published the year before, when she turned 95, noted her as being "as keen as ever
on horseracing" and that she "can still talk with fluency and accuracy of races which took
place sixty or seventy years ago."
Ellen Chaloner died in Newmarket on March 5, 1944 at age 98. She lies in an unmarked
grave in Newmarket cemetery. However, there is currently a campaign by her descendants,
including her great, great grandson, former Irish champion jockey Charlie Swan, to have a
marker installed, a long overdue memorial to one of British racing's unsung trailblazers.